The perfect dip for Cinco de Mayo, a Super Bowl Party or anytime!  Quick, EASY Mexican Dip that looks impressive! Can be made ahead!
Want to see more Mexican Recipes or Appetizer and Dip Recipes? Request a Recipe or Leave a Comment! Go to this Recipe on YouTube or my Facebook Page! What you're craving could be my next recipe!
You may also like these Mexican Style Recipes: 
Guacamole Recipe,  Black Bean and Corn Salsa,  Salmon with Mango Salsa, Chicken and Cheese Empanadas, Tequila Lime Chicken Recipe, Mexican Rice, Cinnamon Sugar Tortilla Chips, Homemade Salsa Recipe
Watch The Video! Learn How to Make 7 Layer Dip!  Recipe by: Diane Kometa
Get updated when I release New Recipes!  It's Free! Do It! 
Don't Miss An Episode!
7 Layer Dip – Mexican 7 Layer Bean Dip Recipe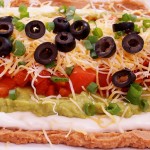 Prep time:
Cook time:
Total time:
Yield:

8

Difficulty:

easy

Recipe type:

Appetizer
Ingredients:
2 – 9 ounce cans prepared bean dip

1 cup regular or reduced fat sour cream

1 – 7 ounce package of Wholly Guacamole or guacamole of your choice

1 cup diced tomatoes

1-2 Tbs. taco seasoning mix

4 ounces finely shredded Mexican cheese blend – regular or reduced fat

3 – scallions/green onions – chopped

½ of a 3 oz can sliced black olives

Tortilla chips
Directions:
Bean Dip – On the plate of your choice, spread the bean dip. Leave some space between the dip and the edge of the place for easy scooping and because it looks nice.
Sour Cream – spread over the bean dip, leaving about ½ inch or so between the two layers.
Guacamole – spread in the same manner over the sour cream.
Tomatoes – In a small bowl, sprinkle some of the taco seasoning over the tomatoes and toss to coat. Add tomato layer over guacamole.
Cheese – sprinkle cheese over top of tomatoes
Green onion – sprinkle over cheese
Olives – place on top layer
EAT!! Use your favorite tortilla chips and chow down! I also like veggie chips and they come in really pretty colors. That's probably why I like them! Looks beautiful on any table and is always a big HIT! Enjoy! Recipe by: Diane Kometa
Published on by Dishin' With Di
Tagged: 7 layer dip, appetizer, appetizers, avocado, bean, bean dip, beans tomatoes, best, black olives, cheese, Cinco de Mayo, demonstration, Diane Kometa, dip, dips, Dishin With Di, easy, from scratch, green onions, guacamole, homemade, How To Make, layer, layered, May 5th, Mexican, olive, onion, quick, Recipe, salsa, scallions, seven, snacks, sour cream, spread, Super Bowl, taco seasoning, tomatoes, tortilla chips, tutorial, vegetable, vegetables, video, Wholly guacamole, YouTube